- No snowflake ever falls in the wrong place -
---


Bormio
at 1225 m Höhenlage
Issued by Snow-Forecast.com at:
6 am (lokale Zeit) / 04 Dec 2020
Next 0-3 days weather summary:
starker Schneefall, stärkstens währ. Freitag Nachm.. milderes Wetter mit schwerem Regen (gesamt 126.0mm) am Sonntag Nachm.. Frost-Tau-Bedingungen (maximal 4°C In der Nacht zu Samstag, min -5°C in der Nacht zu Sonntag). Wind schwächt ab.
Next 4-6 days weather summary:
Eine dünne Neuschneedecke. Temperaturen werden unter dem Gefrierpunkt sein (maximal 0°C am Montag Morg., min -11°C in der Nacht zu Mittwoch). Wind schwächt ab.
Zusammen
fassung
Feuchte%

Update this report:
Live Schneebedingungen auf snow-forecast.com berichten


This snow report has been created by snow-forecast.com
Schneefallradar
Bericht einreichen
Letzte Schneeberichte in der Nähe von Bormio:
40

km

weg von Bormiovor 3 hour

Light snow reported from Resia Pass Airport at 1800 metres elevation only 2 kms WNW of Resia-Curon Ski Resort from Resia-Curon

40

km

weg von Bormiovor 5 hour
Bormio Snow Conditions
Die obere Schneetiefe ist:
—
Die untere Schneetiefe ist:
—
Neuschneetiefe Berg

3

 

cm

Wann hat es das letzte Mal geschneit?
2 Dec 2020
---
Snow-Forecast Partner Offers
---
Schneerückschau
Woche 1 von December hat im Durchschnitt:
0.0

Bluebird Powder Tage

Frischer Schnee, meist sonnig, leichter Wind.

0.9

Pulverschneetage

Neuschnee, bewölkt, Wind

0.3

Bluebird Tage

Schnee, meist sonnig, leichter Wind.
---
Bormio Resort Webcam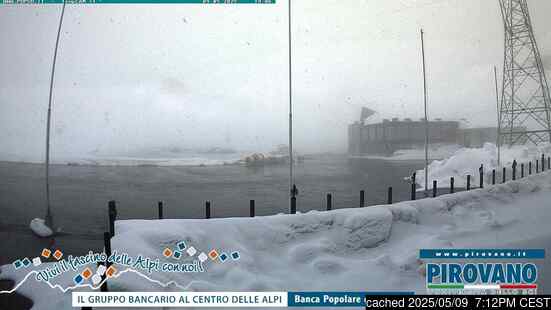 Neuestes Bormio Webcam Bild
Die Tabelle oben zeigt die Wettervorhersage für Bormio auf der angegebenen Höhe von 1225 m. Unsere ausgeklügelten Wettermodelle ermöglichen uns die Schneevorhersage für die Gipfel-, Mittel- und Talstationen für Bormio. Das Fenster über der Tabelle ermöglicht das Abrufen der Wettervorhersage für andere Höhen. Für einen umfassenderen Blick auf das Wetter, siehe die Wetterkarte" von Italy.Bormio
Klicken Sie hier, um weitere Informationen über Gefrierpunkte zu erhalten und zu lesen wie wir unsere Temperaturen prognostizieren.
Besucher-Beurteilung fuer Bormio
Allgemein 4.0 Basiert auf 12 Abstimmungen und 13 Beurteilungen
Edward Waters aus United Kingdom schreibt:

Stayed at Olimpia Hotel, always do. Great hospitality from a family run hotel who also preside over the restaurant at Bormio 3000. Took three grandchildren, one for the first time; they loved the location. All being well we will be back in a year or so.
Kostenlose Snow-Forecast.com Wetter Widget für Ihre Website
Das Bormio Skiwetter Wideget unten, ist auf externen Seiten kostenlos eigebettet. Es bietet eine tägliche Zusammenfassung über unsere Bormio Schneevorhersage und derzeitige Wetterbedingungen. gehen Sie einfach auf die Feed-Konfiguration Seite und folgen Sie den 3 einfachen Schritten, um den eigenen HTML-Code-Snippet zu packen und fügen Sie ihn auf Ihrer eigenen Website. Sie können die Höhe der Schneevorhersage wählen (Gipfel, mittel Berg, oder unterer Gipfel) und Messeinheiten metrisch / Schneevorhersage für den Feed auf Ihre eigene Website & hellip anpassen; Klicken Sie hier, um den Code zu bekommen.